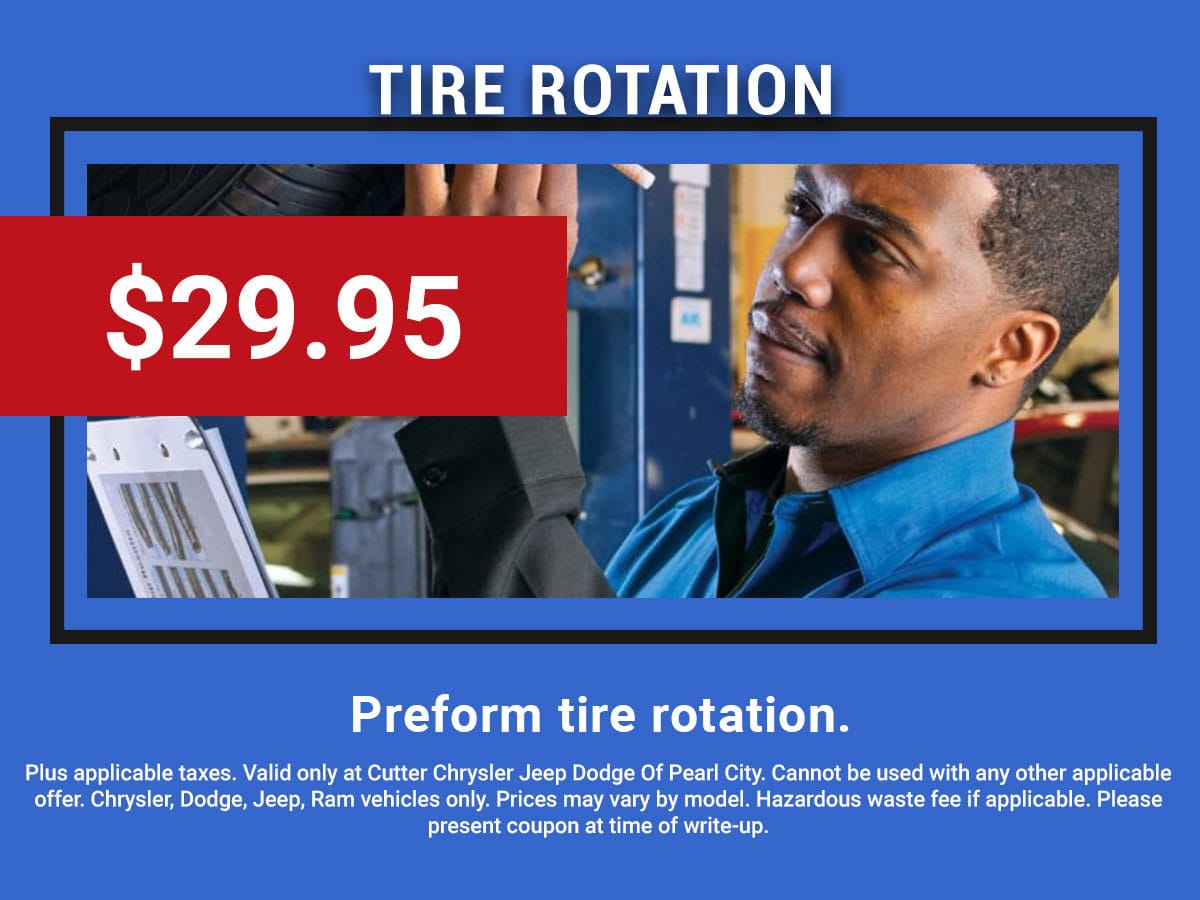 Chrysler Dodge Jeep Ram Tire Rotation in Pearl City
At Cutter Chrysler Dodge Jeep Ram Fiat, we are proud to offer certified auto services, authentic OEM parts, and accessories. We are located in Pearl City, which is within a short drive from the cities of Waipahu, Mililani, Village Park, and Waimalu. As an authorized dealership and service center, we carry the latest technology and equipment for auto services. All of our technicians are certified and have to go through regular training to keep their skills up to date with the latest models of Chrysler Dodge Jeep Ram Fiat vehicles. We maintain high standards of auto services at our state-of-the-art facility.
Save to Phone
Schedule Service
What is a Tire Rotation?
In tire rotation service, the tires and wheels are removed and placed in a different position of the vehicle. The objective of tire rotation is to allow the tread to wear evenly. The tire rotation pattern depends on the type of tires and vehicle. For example, certain tires are only meant to be used on the front axle, so the front right tire can only be rotated to the front left position. Taking your car to a certified technician who understands the tire rotation pattern is important.
Why Get a Tire Rotation Service?
Three are several benefits of getting regular tire rotation service. It can help improve the traction on the road which helps provide better safety and an improved driving experience. Tire rotation can also improve the life of the tires. It also helps in improved fuel economy and saves you major operational costs by minimizing damage to other components caused by unevenly worn-out tires.
How Often Do You Need Tire Rotation?
The owner's manual of your tires should have a recommendation for tire rotation service interval. For the most common type of vehicle, tire rotation is recommended every 5000 to 8000 miles, but that range can change depending on several factors such as type of tire, climate, type of vehicle, and more. If you are unsure about the tire rotation service interval, our qualified technicians will be glad to have a look at the tires on your vehicle and guide you on the service interval. We recommend you have a multi-point inspection service at our facility. It will allow our technicians to check the tires and other key systems of the vehicle.